The message of Our Lady of Fatima is an apocalyptic one. She repeatedly expresses to the three shepherd children the sorrows flowing from her Immaculate Heart, and the impending threat of God's Holy Justice if men do not amend their sinful ways. She implores us to repent, to pray the rosary, and to no longer offend God because He is already terribly offended. As Our Lady of La Salette, she tells us the the arm of her Son, Jesus Christ, the arm of justice as it were, is so strong that she can barely refuse His strength any longer. This was 71 years before Fatima. A week from Friday will be the 100th anniversary of Our Lady's final apparition at Fatima. Man has continued to offend and increase his offense against God in the 20th and now 21st century, How much longer do we have? How much longer can Our Blessed Mother refuse the strength of her Holy Son's arm?
According to prophecy by the Catholic saints and seers, we ARE NOT in the endtimes...YET! As a grace and a final mercy God will send a great chastisement upon the world known as the "three days of darkness". According to these prophecies, God will allow all the demons of hell to be released upon the earth and He will relinquish His governance. In other words He will allow the demonic powers to rule unchecked for this three days period. During this time most of mankind will die because of their hopeless attachment to sin. This three day period will be a purification of sorts, and after the chastisement the Church will rise again in even greater glory than it had even in Medieval Europe, but it will be short lived. Only about two generations of good harvest and men will forget their chastisement. And this forgetfulness paves the way for the REAL END TIMES.
Lest we forget, the will of God can always be changed when men bow down and pray the rosary, when they repent of their sins and do penance! Eventually our time will run out and we will be judged because of our inevitable inclination toward sin and non-repentance, but we still have hope! It doesn't have to be now! We can still pray! We can still repent! We can still be right with Our Lord! We can still save Our Holy Mother Mary from being overpowered by the arm of her Holy Son! As long and we pray sincerely and faithfully of our Holy Mother for her intercession, Our Lord will never refuse her prayers!
MUSIC TO PRAY BY: https://www.youtube.com/watch?v=KY2KzjVNoKY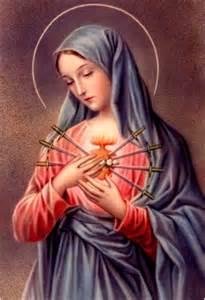 Amen.
Matthew